There's hardly an opera house in Europe that hasn't worked with mezzo-soprano Annalisa Stroppa. Born in a small town in Northern Italy, Stroppa grew up playing the piano, and after completing her education, she started knocking down competitions. She has risen through the ranks and is currently performing the title role in Bizet's beloved Carmen at the annual Bregenzer Festspiele in Austria. We are pleased that Ms. Stroppa was willing to take some time out of her tremendously busy schedule to sit down with us and share a few of her thoughts on opera and her life.
You are the first mezzo-soprano I've interviewed! Which mezzo Fächer describes your voice the best?
I am a lyric mezzo. I mostly sing bel canto roles, which are part of my musical training, and I adore French phrasing. I believe this repertoire is perfectly congenial to my vocal characteristics as well as my personality. I would single out Adalgisa in Norma, Romeo in I Capuleti e i Montecchi, Sara in Roberto Devereux, Léonor in La Favorite, Carmen, Marguerite in La damnation de Faust and Charlotte in Werther.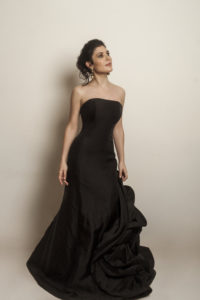 Every voice type seems to have its own characteristics. What should operagoers know about about mezzos?
A mezzo-soprano voice is warm and rich and dark-hued; should I compare it to an instrument, I would choose a viola. It is well-known that the tessitura lies between a soprano and a contralto. Within this type of voice there are some specific differences and depending on their characteristics one can distinguish the "leggero" or "light" mezzo, the "Falcon", the lyric and the dramatic mezzo.
Tell us about what it was like growing up in Brescia, a relatively small city in Northern Italy. Was opera alive and thriving? Were you surrounded by it?
I was born and raised in a very small town near Brescia. I attended high school and the Conservatory in Brescia, and the University in Bergamo. Brescia is a small town but quite industrialized and modern, near Milan and Verona. There is a gorgeous opera house, the Teatro Grande, with its own opera, dance and concert season, and it's internationally known principally for the Arturo Benedetti Michelangeli Piano Festival. There are numerous cultural associations and festivals which keep the territory musically alive. I love my hometown, but I believe that regardless of the place where we live and what it may offer, the most important thing is having a great passion and motivation as well as the stimuli and support received by one's family. Thanks to these elements one can find the energy and determination to embark in this journey.
Put these operas In order of your listening pleasure: Le nozze di Figaro, Il barbiere di Siviglia, Nabucco, Carmen, and Orfeo ed Euridice (Gluck).
These operas are so stylistically diverse that I am having a hard time to list them in order of preference. Each of them is wonderful in its own right.
Are there any underrated mezzo roles that you adore?
Yes, for example marvelous roles in rarely performed operas such as the title role in Massenet's gorgeous Mignon, or Béatrice in Berlioz' Béatrice et Benedict, Cuniza in Verdi's Oberto, Isolier in Rossini's Le Comte Ory. Another splendid role I had – on the other hand – the pleasure to sing is Cherubino in I due Figaro by Mercadante, rediscovered by Maestro Riccardo Muti. Among the other roles I have performed and that I'd like to mention the vastly underrated Suzuki: she is much more that Cio-Cio-San's servant, she is her alter ego, a positive, tender and sensitive character. She is the only person who understands her and stays with her to the very end: these are the aspects which in my view increase the value of this character.
You've participated in a number of festivals and competitions around the world. Which one was the most fun?
Operalia, in Hungary in 2011. I took part in the competition and Maestro Domingo invited me to sing Carmen's Act IV duet with him during the final concert. It was amusing because it was a completely unexpected surprise and I didn't have the role of Carmen in my repertoire. In one single day I memorized the finale "C'est toi! C'est moi.", and went on stage. I was very excited and nervous: sharing the stage with the greatest Don José ever was fantastic. A thrilling and unforgettable experience!
Besides singing, how does Annalisa Stroppa occupy her time? Where could we find you on a free Saturday afternoon?
Right now my spare times is rather limited, but whenever I have some, I enjoy spending it with my loved ones. When I sing far away from home, my schedule is quite tight, and the time I can devote to something other than work is not much, but I take advantage of my days off to visit the cities where I am performing. I also love to cook and, like all women, shopping!
What one engagement are you most looking forward to this upcoming season?
My upcoming season is rich with wonderful roles and I am thrilled at the idea to sing each of them. In October and November I will be Fenena in Nabucco at the Teatro alla Scala where – after Suzuki in Madama Butterfly last year – I will be honoured to take part once again in the inauguration of the 2017/18 season as Bersi in Andrea Chénier with an exceptional cast including Anna Netrebko and conducted by Maestro Riccardo Chailly. Then I will be Adalgisa to Mariella Devia's Norma at the Teatro Carlo Felice in Genoa and I will reprise Rosina, my most performed role, at the Semperoper Dresden: a schedule full of important engagements and gorgeous roles.
To finish, I'd like to ask a question I ask everyone: what is it about opera that touches your soul?
Emotion! When I interpret a role, I try to step so deep inside into the character as to feel his or her same emotions, and this is the best part of singing opera. I realize that, every time I sing, I carry on stage a part of myself, of my sensitivity, of my past, and this is how my roles takes shape. We artists have this great privilege: to experience these emotions ourselves so that these same emotions may touch the hearts of the audience!