Soprano Jacquelyn Wagner is in high demand at the grand opera houses of the world, especially across the pond. I am delighted that she was willing to talk with me about her background, what it's like living in Germany, and what's in store for her as she prepares for a thrilling 2021 / 2022 season.
You're a fellow Midwesterner! Was Classical music a big part of your early life? Did you have a musical family? Did you have opportunities to pursue Classical music seriously in high school?
Yes I am! I grew up in Michigan, in the metro Detroit area. My father was a horn player in the Detroit Symphony Orchestra all my life. He played third horn until just a few years ago, when he decided to retire and take on the Horn Professor position at Michigan State University and also the horn professor in Interlochen Center for the Arts. 
Classical music was definitely a big part of my life. I started piano at age 4, and my brothers and sisters also were required to play an instrument for a time, although none of them decided to take it to a professional level. I was in the school choir, and sang at church all the time, so music was always in my life!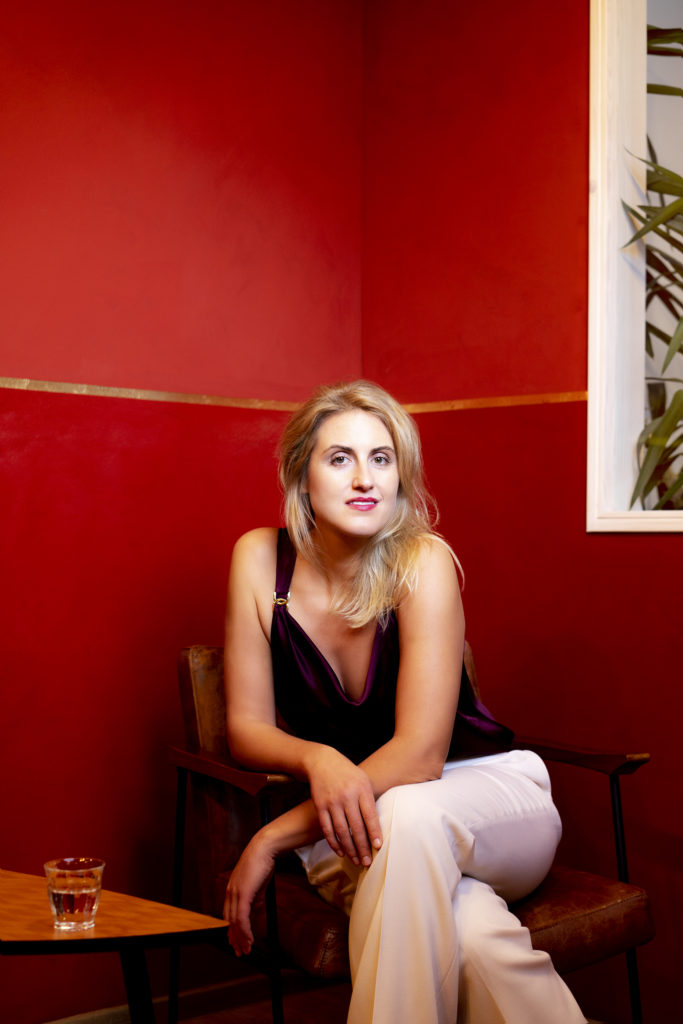 I started studying with Edith Diggory from Oakland University when I was 14, if I'm not mistaken. I enrolled in Oakland University in order to continue with her all through my Bachelor's Degree as well.  She is the reason why I ended up in Germany, as she encouraged me to apply for a Fulbright Scholarship, so that I could be in Europe, something that I would not have known to do! I will always be so grateful to her for helping me in so many ways, but mostly to encourage me to leave home and pursue this opera dream in Europe!
When did you leave the Midwest? When did you relocate to Germany?
I went to Manhattan School of Music for my Masters Degree from 2003-2005, and then that fall of 2005, I moved to Germany to start my Fulbright Scholarship. I started in Cologne, Germany, but eventually ended up in Berlin by February of 2006. I had a fest contract already with the Deutsche Oper in Berlin for the seasons of 2006-2009, and even after going free lance in 2009, I decided to keep Berlin as my home.
What are the best and worst things about living in Germany?
Oh wow, that is a loaded question! The best thing is how much they appreciate and support art. There is an opera house in almost every city (it seems), and many orchestras, dance companies, galleries and art museums. 
But the worst?  Maybe that they aren't very open as we are in the Midwest. I'm used to chatting with the cashier, or saying, "hi" or at least smiling to strangers when you take a walk or run. But here, that's not normal. You get used to it, but I miss the friendliness of the States!
What was the 2020 – 2021 season like for you? How did you stay busy and adapt to these crazy times?
It will definitely be a season to remember! It was very difficult for everyone. Mostly, difficult to keep hope and to have the desire to practice. When there is nothing in the horizon, and seemingly a never-ending hold on all things culture related, it's a very helpless feeling and that feeling doesn't push you to practice! But, I was very lucky in that I had a few jobs in the time period. Without those moments, I don't know how I would have dealt with things. I know many of my colleagues had no work the entire time.  It's just a nightmare for freelance singers. As you probably know, we aren't paid until we sing a concert or performance. So when you have none of those things happening, panic can set in as you see your bank account and savings start to dwindle. I just really pray that this season will not bring shutdowns anymore. We need to stay open!
Arabella has become a signature role for you. Do you have any theories as to why you're so successful in this role?
That is sweet to say it's a signature role. I don't know about that, but it is certainly my favorite role, so perhaps that's why? I really feel as though it's written for a voice like mine. Strauss seems to have written all of the things that I love to do, or that come easily to me, in this piece. So, I sing it, even more than some other roles, with all of my heart!
Here are a few more roles you're known for: Agathe in Der Freischütz, Elsa in Lohengrin, and Donna Anna in Don Giovanni. Which is your favorite? Why?
I'm not sure if I actually have a favorite of the three. Agathe's purity is special to play, and her both arias are just luscious to sing! Donna Anna is definitely not a very "fun" role to sing, only because she is lamenting her dad's death the whole opera. I wish that she could have a bit of humor, but that's given to Elvira!  But I love her second aria, "Non, mi dir". It's just so beautiful. But Elsa, I might say, might be the most interesting to sing. She is very full of so many emotions in the opera, and even though her curiosity really gets the better of her, I still find her challenging and wonderful to play and sing.
What's in store for you this season? Where can our readers see you?
Right now I'm in Vienna for a premiere of Der Rosenkavalier at the Volksoper, staging by Josef Köpplinger. It will be the first time that Rosenkavalier has premiered in Vienna since the classic staging at the Staatsoper by Otto Schenk in 1968. It's quite exciting to be involved with it!
Next I will be in Hamburg in December 2021 for Die Fledermaus.
In February, I will be debuting my first Salome in Innsbruck at the Tiroler Landestheater, staged by Angela Denoke, a world renowned Salome herself.
Directly afterwards, I will be in Salzburg for the Osterfestspiele for Lohengrin with Christian Thielemann. 
And then in May, I will be back in Hamburg for Fidelio under the direction of Kent Nagano.
What are you passionate about off stage?
I love being with and connecting with my family, I love swimming, and I'm a sucker for a really good cup o' Joe!
To finish up, I'd like to ask a question I ask everyone: what is it about opera that touches your soul?
It's the acting augmented by amazing music that transports the emotions to such an intense level. Those moments in operas when your hair stands up straight as you are being moved by the music that intensifies normal, human emotions. That's what I love the most!