Evan Mack is a national award-winning composer who unapologetically focuses his prodigious talents on the art of vocal music. You may have heard his music performed recently by renowned singers such as Deborah Voigt, Michael Mayes, Daniel Okulich and many others. Equally at home writing art songs, operas and musical theater, Mack is in a constant state of creating. He recently took a moment to share thoughts about his journey to this point, as well as his upcoming projects.
When did you fall in love with classical music?
I started taking lessons at age 7. I only started because my older brother was taking trumpet in school. When I got to eighth grade, I switched to a new teacher. He was a graduate of the Moscow Conservatory of Music and fled to the US after the Soviet Union collapsed. It was there that I was exposed to Prokofiev, Tchaikovsky, Rachmaninoff, Shostakovich – – you name it. If you closed your eyes when I played piano, you would've thought I was from Russia! I started composing at that time. The more I played piano, the more I would compose. I would essentially sound like the person or piece I was studying. I was quite a chameleon!

What inspired you to begin composing music?
Girls! I was 13 or so and kept writing songs. 95% of those songs were love songs with terrible lyrics, but some good tunes. Approximately 0% of those songs ever got me a girlfriend. In high school, I started writing two types of pieces — classical and musicals. By the time I was a freshman in college, I had written five musicals. I then started writing for classmates. Since I was studying with such a variety of chamber musicians, I wrote a lot of chamber music. I've always maintained that practical philosophy: Write for people who can play your music!

Could you explain your process of writing vocal music?
Oftentimes a text, poem, paragraph, or scene in a show is my driving inspiration. I have a sketchbook and will create these "musical stem cells." And then I see how those sketches interact with a text. This works great when I'm writing with my librettist, Joshua McGuire. It's also a nice starting point when setting a poem by an author long gone. In a few of those instances, I write an entire piece within an hour or two. Those days are pure magic. That said, I usually leave the morning open to writing. Sometimes I end with a blank page or set one or two lines of text. Other times, I am refining my work from the day before. The best days are when the roadmap of a piece becomes self-evident!

If you could sum up "the Evan Mack sound," how would you describe it?
My sound is the way I respond to the text. In my operas, I'm creating universes that have rules. For example, my opera Roscoe takes place on V-J day. There's always a Glen Miller sound in the DNA of the characters—sometimes overt, more often in a harmonic or rhythmic gesture. In Yeltsin in Texas, there's an 80's vibe throughout. In my children's opera, sonorities are used to create a magical, awe-inspiring musical landscape. When I compose, I am always thinking about the singer. They need to be as comfortable as possible to convey the story. My music can be difficult, but never difficult for the singer. When they sing with ease, the audience can relax, open up, and respond to the raw emotions being conveyed.
What upcoming projects are you most excited about, and why?
The Travelled Road is an album of my songs brilliantly performed by Mezzo-Soprano, Megan Marino and Pianist, John Arida. Two of the tracks include cellist, Jameson Platte.I am extraordinarily proud of this album. It was thrilling to see what these great artists did with my works. Conceiving an album of songs was a different, and quite frankly, liberating process when compared to writing operas. I chose the material with them and catered some of the pieces to give them more room to shine. The last piece on the album, The Road and the End is a piece I wrote specifically for Megan's voice. I listened and listened and listened to her performances and then started writing. The text is from a 1916 Carl Sandburg poem, and Megan fills the sound with grit, soul, and perseverance. John and Jameson get to wail with her on the track. The end result Is incredible, and I get something new out of it every time I hear it.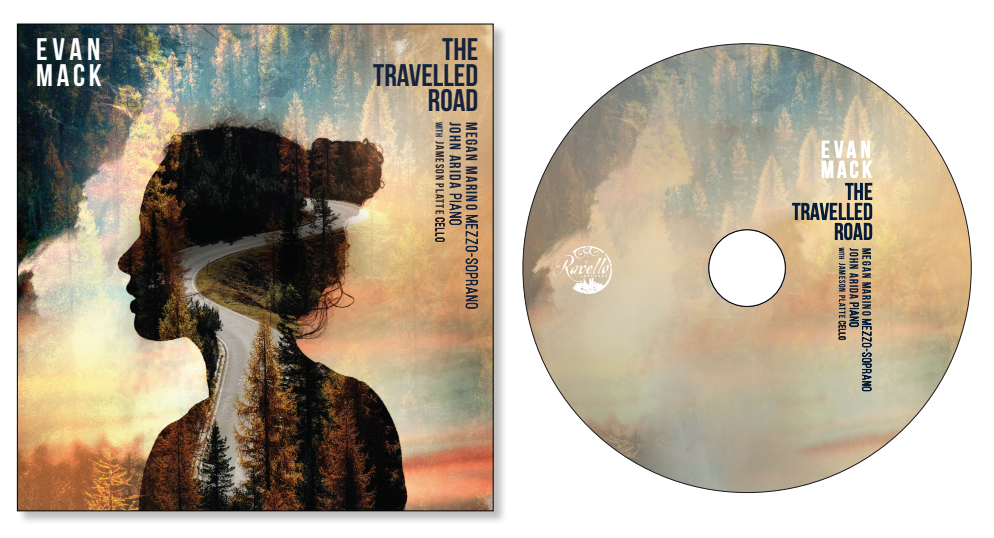 Do you have any advice for any aspiring young composers?
Write, write and write! You never will write the perfect piece or opera or song. But the more you compose, the more you learn. The other piece of advice is to be flexible. If a performer approaches you and asks you to adjust something—timing of a line, key of a song, etc., change it. Make them comfortable. They're ambassadors for your art and if they're feeling great when they perform your piece, the audience will feel great too.
The Travelled Road release date is March 26, 2021. Visit evanmack.com for more information.