American soprano Rainelle Krause's flexibility isn't limited to her voice. Like every other professional opera singer in the world, Krause has rolled with the punches of canceled performances and severely altered schedules. Further proof of her unique flexibility is evident in her physical athleticism as an aerial artist. A simple search online shows several of Rainelle's high-flying feats, as she tosses off coloratura cadenzas while dangling from a piece of cloth and spinning high above her audience.
Mozart's Queen of the Night has quickly become Krause's signature role, and several European companies hired her to join their Magic Flute casts this season. Though Covid-19 has caused changes in Rainelle's calendar, she is still scheduled to sing Königen in Basel, Berlin and Copenhagen this season. 2020 may have brought unpleasant surprises, but Rainelle Krause is not easily deterred. She recently took a moment to share her secrets for maintaining focus, artistry and purpose.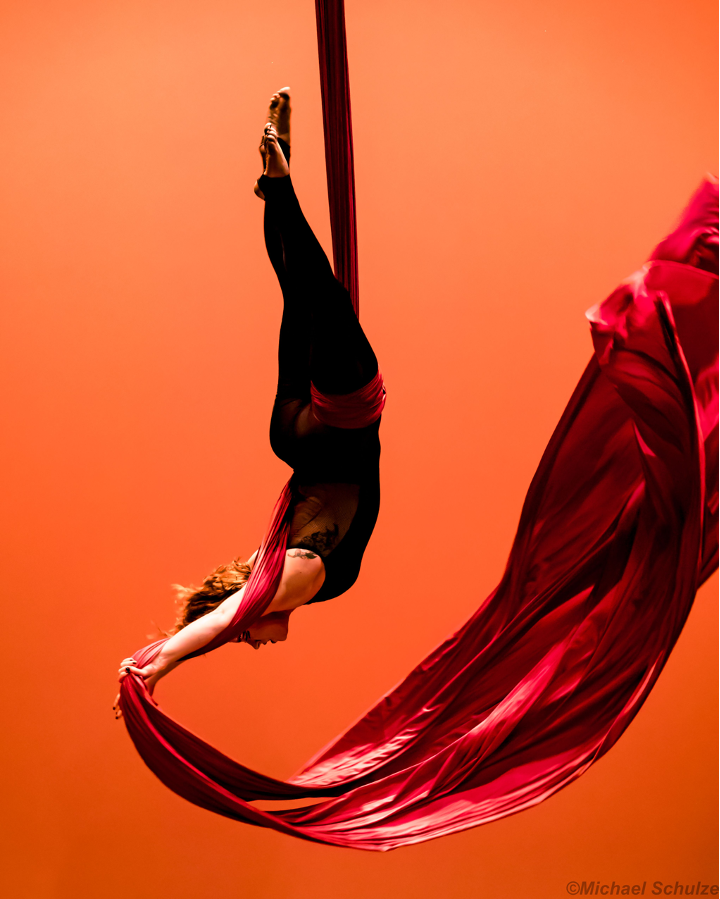 How do you keep your voice in shape while you're on the road?
Keeping my voice healthy while traveling is mostly about keeping the rest of me healthy! Getting sleep, exercising, eating well, and tending to my mental health all have a profound effect on my instrument. I happen to have a pretty high-maintenance system, so I also avoid foods I know aggravate my body, and I bolster my defenses with a variety of supplements that work for me. But for trickier technical issues, I make a point to touch base with my voice teacher and my Alexander technician, both of whom are an invaluable resource. I also try to take coachings wherever I am, both as a chance to work on different rep and to pick up new and interesting details that person has to offer.
Especially during a pandemic, I don't think there's any real secret to staying healthy — wear a mask, wash your hands, keep your distance, and keep doing the things you already know are good for you.
What is the biggest surprise you've experienced so far in this career?
It is honestly surprising to me how chance meetings can return to you years later as serendipitous opportunities. It reinforces the idea that you never know which people will end up being important, so it's imperative to have your best foot forward with everyone you interact with in a professional (or professional-adjacent!) setting.
Maybe that horn player you knew in undergrad ends up in administration with a symphony that needs a soloist; maybe the connections you made at a pay-to-sing program five years ago help you land an important contract; maybe the friends you made in the opera chorus let you know about great concert opportunities in their area — you never know who might help you, or who you might be able to help!
What has been your favorite artistic highlight so far in your life?
While there have been many moments I'm very proud of, I think the thrill of performing my aerial Queen of the Night routine with Opus Opera in New Orleans will always be a treasured memory. Not only did I meet some incredible artists that I consider friends, but I was able to put forward this striking fusion of aerial arts and opera to an audience that loved it as much as I do. I am so thankful to have had that opportunity, and I would love to cook up some new work for the chance to make art with them again.
What is the most important lesson you've learned as an opera singer?
This sounds a little harsh, but the most important lesson for me was that talent is a necessary but insufficient condition for success. At a certain level everyone is talented, and that's a good thing! But it means you have to figure out what else you have to say with that talent. Success in this field demands a number of factors, not least of all luck. You owe it to yourself to work on all the factors in your control — your knowledge, your skill set, your network, etc. — so that everything is in place if that luck lands in your path.
Do you have any advice for singers who feel like their careers are out of control due to the pandemic?
Know your worth, and advocate for yourself. We are all living with a level of uncertainty unprecedented in our lifetimes, and while cancellations and postponements require patience and understanding from all parties, it's important to know what is worth conceding and what isn't. If you aren't sure, don't be shy — ask your colleagues and mentors! Gather as much information as you can, and be prepared to back up your requests with examples, numbers, and a willingness to offer multiple solutions that you think could be amenable to both parties. Even if you don't come to a different agreement, I have found that kind of polite but implacable confidence in your worth leaves a valuable impression.
For more information, visit RainelleKrause.com.