He's got a commanding presence on stage and a powerful set of pipes. His name: George Gagnidze. Born in Tbilisi, Georgia, Gagnidze is one of the world's foremost baritones. In fact, this coming Saturday, April 15th, he will be performing in Verdi's Aida at the Met. The performance will be broadcast around the globe, so be sure to catch it! I am thrilled that George was willing to take the time to answer a few of our questions.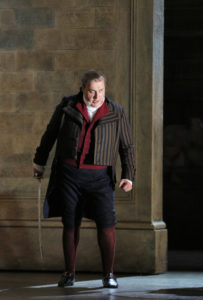 I can see from your bio and performance history that you are a force to be reckoned with in the world of dramatic Italian baritone roles. Do you ever venture into other languages?
I have sung in several different languages. In Russian I've sung Shaklovity in Khovanshchina by Mussorgsky (at the Metropolitan Opera, and I will sing the same role for my debut at the BBC Proms conducted by Semyon Bychkov in July), and I've sung Jeletzky in Pique dame [The Queen of Spades, by Tchaikovsky]. I'd really like to add Tomsky to my repertoire by the way! At the beginning of my career I've sung a few roles in German, the title role of Wagner's The Flying Dutchman and Jochanaan in Strauss's Salome at the Nationaltheater Weimar. In French I've sung Escamillo in Carmen and the title role of Guillaume Tell.
Nabucco, Rigoletto, or Aida: which one do you bring with you to a desert island?
Rigoletto, because it's my favourite role. It's a difficult part but it has so many facets and is an amazing role to sing, the music is incredibly beautiful.
You're Georgian, so what kind of a relationship do you have with Russian opera?
As I mentioned above there are several roles from Russian operas that I've performed with a lot of pleasure. I love Russian opera and there are some roles I'd love to debut in, for example the title role of Mazeppa and the title role of Borodin's Prince Igor.
Your Met debut was as one of my favorite roles in opera – Rigoletto. In fact, Rigoletto was the first live opera I ever saw. Can you describe what you felt the first time you sang at the Met?
I felt that it was a huge honour to sing there, and I felt a lot of responsibility, just like today at every single performance I'm singing there. I was so excited to sing this role on that stage where so many of my favourite baritones, such as Bastianini, Warren, MacNeil, Merrill, Protti, or Nucci performed the same role.
Tell us about your take on Scarpia; is he pure evil? Who are your favorite interpreters of the role to listen to?
Scarpia is evil, but he is still a human being of course. He doesn't have any moral and doesn't care when he crosses boarders. He is just extremely cool blooded and takes what he wants without any regrets, and without caring if he harms anyone or not. I sometimes think that he might have had a tough childhood and compensates the trauma he suffered as a child and that this is the reason for his sadism. I don't listen to a lot of recordings anymore to be honest, since it is important for me to sing and interpret my very own Scarpia. At the beginning of my career I did listen to recordings and was particularly impressed by Tito Gobbi and George London. I also like Giangiacomo Guelfi's Scarpia a lot.
You are currently playing Amonasro in Aida at the Met. What is your favorite part about this role?
The story of the opera is very interesting, for me particularly Amonasro's emotional attachment to his daughter and his love for his country. I think about him and his relationship to the great power Egypt, and my own homeland, Georgia, which is located near a great power as well.
Are there any roles you're dying to play that you haven't yet had the chance to undertake?
There are several roles that I'd love to sing but didn't have the chance to yet, for example Conte di Luna in Il trovatore, Monfort in Vespri siciliani, Don Carlo in La forza del destino, several early Verdi roles such as Francesco Foscari in I due Foscari, Don Carlo in Ernani or Francesco in I Masnadieri. By Puccini I'd like to sing Jack Rance in La fanciulla del west and I'll make my debut as Michele in Il tabarro in the 2018/19 season.
I'd like to finish with a question I ask everyone: what is it about opera that touches your soul?
What touches my soul apart from the stunning music is that so many emotions from real life can be found in these works. And I hope to touch the souls of the audience by transmitting as much of these emotions as possible during my performances.