American tenor Jonathan Blalock is one of those opera singers who is not only a pleasure to listen to, but also a delight to talk to. The North Carolina native, who will soon be playing Beppe in Leoncavallo's Pagliacci, was gracious enough to sit down with Opera Sense and answer a few of our questions about himself and his passion for opera.
What is your earliest opera memory?
When I was a sophomore in college I attended a production of La traviata in Chattanooga. It was a student dress rehearsal, and sadly they were not ready for a real performance. I left feeling ambivalent about opera (I was still a pre-Med major at the time). But the next year I went to The Barber of Seville, and I was transfixed. The vocal fireworks and hilarious antics of the performers made me fall in love with Rossini, and I've been lucky to sing Count Almaviva in Il barbiere three times so far.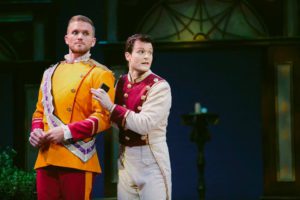 How much of your job is acting? How much of your job is singing? Are you a natural actor? I recently watched an interview with a famous baritone who said that in opera you act with your voice. Do you agree?
I think that my job requires 100% acting AND 100% singing. The two can't be separated. Excellent singing is always vital, but the purpose for me is always to tell a story. That's the difference between singing and playing an instrument. The words and characters convey meaning with each note that comes out of my mouth. Opera singers communicate with vocal colors, phrasing, facial expressions, intention of breath, dynamic variation, speed of movement, etc. I could fill a whole page with tools each singing actor can utilize. Honestly I would say neither singing nor acting comes naturally to me; but what I lack in talent, I try to make up for with hard work. I work on my vocal technique each day, and I'm constantly observing
my colleagues and learning from them.
You're a Mozart and Rossini specialist. Are there two roles (one from each composer) that you particularly identify with for some reason?
My favorite Mozart role that I've sung so far is Ferrando in Così fan tutte. He has sublime music to sing, and he also gets to be a total goofball while he's pretending to be one of the Turki. Almaviva is such
an enjoyable Rossini character to portray. The lazzi in Barber of Seville provide a perfect opportunity to play around with different disguises and scenarios from the romantic to the completely comical. I'm
still dying to sing the title role in Comte Ory (Rossini), so hopefully that chance will come along soon.
Don Giovanni reminds me of Breaking Bad. The title character is an antihero just like Walter White. He commits the most horrible atrocities, but sometimes you still can't help but root for him.
I like to ask this to all tenors who have sung Don Ottavio from Mozart's Don Giovanni – the character has a reputation for being a, well, a bit of a wuss. Do you agree? What colors of this character to you try to reveal in those two stunningly beautiful arias of his?
I'm so glad you asked me about Ottavio, one of the most underrated roles in the operatic repertoire! Don Giovanni reminds me of Breaking Bad. The title character is an antihero just like Walter White. He commits the most horrible atrocities, but sometimes you still can't help but root for him. To me Don Ottavio is a lot like Hank in Breaking Bad. He's a deeply good man, and he provides the moral compass for the story. Ottavio is honorable, so he's willing to swallow his pride and put up with discomfort in order to do what's right. He's in control of his impulses, and I think that's the opposite of weakness. "Dalla sua pace" reveals Ottavio's unconditional love for Anna. He's willing to put her desires before his own. "Il mio tesoro" conveys the anger and revenge Ottavio is prepared to exact against Giovanni. Unfortunately the story doesn't allow that fight to ensue, but the virtuosic runs and leaps in the aria portray the strength and courage in Ottavio's heart.
What I love most about opera is its transcendent power.
You will soon be performing Beppe in Leoncavallo's verismo masterpiece Pagliacci as part of the Arizona Musicfest. What particular challenges does this role entail?
A conductor friend of mine once said, "There are no small roles; only small fees." Of course that's a joke, but he's right about supporting roles. Secondary characters like Beppe are crucial to the performance. Pagliacci provides the unique challenge of a play within a play (actually a play within an opera). The characters have to be layered in a way that is stylized but also clear for the audience.
I listened to a video on your website of your singing "Bring Him Home" from Les Meserables. Gorgeous! I also see that you're performing in South Pacific in July of this year. How often do you venture into musical theater? What unique challenges are there in singing musical theater as compared to opera?
Thank you for the compliment! I fell in love with Broadway before I ever heard my first opera, so musicals have always been special to me. I don't often have the chance to sing Broadway roles, but I almost always include show tunes in my recitals and concerts. The biggest challenge with musical theater is learning how to sing with amplification, after years of studying how to project one's voice over an orchestra with no microphones.
What's one opera you couldn't live without?
Oh man, my answer changes every week! I always say my favorite opera is the one I'm singing right now. Today it's The Mikado (Gilbert and Sullivan, 1885), and next week it will be Pagliacci. My favorite operatic duet of all time is "Bess, You Is My Woman Now" (Porgy and Bess, George and Ira Gershwin, 1935) The best ensemble in any opera (in my humble opinion) is the trio from Der Rosenkavalier (Strauss, 1912). I know I didn't really answer your question, but it's just too hard!
To finish up, I'd like to ask a question I ask everyone: what is it about opera that touches your soul?
What I love most about opera is its transcendent power. I'm from North Carolina. We southerners don't generally share deep feelings. We learn to smile and say, "Hey, y'all. Would you like more sweet tea?" So many times I've buried my feelings deep inside, too afraid to deal with the ugly truth. Then I step into the theater (as a performer or as an audience member), and the glorious music will suddenly bring everything to the surface. I'll have a good cry and then move on with my life. It's a wonderfully cathartic experience.