San Francisco's Opera Parallèle is one of the hottest young opera companies in the nation. Since 2007, the company has focused on producing contemporary opera in intimate settings. Next week, San Francisco audiences will have the opportunity to see Opera Parallèle's newest production: Jonathan Dove and April De Angelis' Flight, an English opera in three acts. This fascinating work looks at a day in the life of the Refugee, a character based on Mehran Karimi Nasseri, an Iranian refugee who lived in Charles De Gaulle airport in Paris, France from 1988 to 2006. Nasseri arrived in France legally, but since he was not able to produce a valid passport, it was ruled that he could not enter the country. Countertenor Tai Oney, the Refugee in this production, sat down with Opera Sense to discuss his career, the work, and how the opera resonates with audiences.
Yes, the central character's inspiration is based on true events about an Iranian refugee living in an airport, but I think the message is much bigger than that. Although it is a comic opera and quite lighthearted, there are darker moments that force you to look inward. – Tai Oney
Most of our readers are unfamiliar with countertenors. How do you describe your voice type to people unfamiliar with classical singing and opera?
I usually tell people that it is the highest male voice that is often compared to that of a female alto, mezzo-soprano and in some cases soprano. If this is still not clear, I usually tell them to listen to pop icons like Justin Timberlake, Maxwell or Michael Jackson when they sing in their highest register. They are essentially pop/r&b countertenors.
I know you've played Cherubino in Mozart's Le nozze di Figaro (1786), a role traditionally played by a mezzo-soprano. For those readers unfamiliar with the character, Cherubino is a male adolescent normally played by a female singer. This type of role is often referred to as a "breeches," "pants," "travesti," or "trouser" role in opera and theater. Do you think the fact that you are male affected Cherubino's relationships with Susanna and the Countess in that production?
I think it became a bit more tangible for people to realize. Although there are many who do it well, playing a pubescent boy can be particularly challenging for a female. When it comes to opera and theater, audiences are often asked to suspend their disbelief. Some have a hard time trying to conceptualize a female playing a boy. On the contrary, it's hard for some to visualize an adult male playing a boy but singing in the female register. Ultimately, we have to look at what Mozart intended. The fact that the first Cherubino was indeed sung by a woman says a lot about the type of sound and character he wanted to produce. It's my belief that we as artists are of service to the music first and foremost. Everything else is ornamental.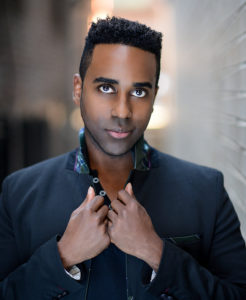 Let's shift gears and talk a bit about your upcoming performance in Opera Parallèle's Flight, opening early February 2017. The work premiered in 1998, so by opera standards, it is practically brand new. Newer operas and roles don't bring a long-standing performance "history" with them that a La Traviata or Leporello do. How does this affect the way you approach the role (assuming it does)?
I find myself spending more time learning the notes and trying to understand musically where the piece is going. Sometimes it makes sense. When it does make sense, you can get a lot of information about the character and ideas of how to portray him/her.
Do you prepare for contemporary opera roles differently from how you approach roles like Cherubino?
I would say the most significant difference is the musical preparation. Some of the contemporary opera roles are a bit more challenging in terms of pitch intervals and rhythm but I enjoy the challenge! For me, it's like putting a puzzle together piece by piece. A role like Cherubino presents its own challenges when it comes to text, temperament, etc. but I can sing "Voi che sapete" (Mozart's Le nozze di Figaro, 1786) in my sleep without thinking too much about intervallic relationships. Contemporary opera roles…not so much.
Flight drew some of its inspiration from true events, namely those surrounding Mehran Karimi Nasseri, the Iranian refugee who lived in Charles de Gaulle airport from 1988 to 2006. Prior to beginning work on this opera, were you familiar with Nasseri's story? How has his story informed your portrayal of the Refugee?
I read about Nasseri a few years ago when learning the Refugee's aria in Flight. Recently, I watched a documentary about him. While at the terminal, he seemed to be a soft-spoken, gentle man open to strangers but also aware & protective of his own space. There's also an intriguing and mysterious side to him; almost magical. Although he lived in an airport terminal for 18 years, he seemed to be content for the most part. I want to portray the Refugee in a way that shows all of these characteristics but with the constant reminder that he may never leave the terminal.
"Music expresses that which cannot be put into words and that which cannot remain silent." -Victor Hugo
Most of the characters in Flight don't have names; instead, they are generic nouns like "Refugee," "Steward," and "Minskman." That is, except for Bill and Tina, the older couple traveling in order to rekindle a past romance. Why do you think librettist, April De Angelis, decided to do this?
This is an interesting observation! My guess would be that the librettist wanted to generalize the characters in the story and allow the audience to fill in the blanks with what they deem as familiar. We don't have an immediate connection to the characters in the opera (save Bill and Tina) until we start to hear their stories unfold. Bill & Tina are the first to kind of give us their backstory and history. By referring to the characters as the "Stewardess" or "Older Woman" we naturally start to develop a generalized idea about the character's personality or traits. It isn't until their stories are told that their names are revealed. It's as if the information that we are then given allows us to connect to the character on a deeper level; on a first name basis. However, I think it is important to note that the Refugee's name is never revealed. It's left up to the audience to make a deeper connection. Talk about life lessons…wow!
The opera was likely selected last year, but I must say the story coincides (eerily) well with current events. Have recent executive orders enacted by President Trump shaped your portrayal of the Refugee in any way?
I think I speak for the entire cast when I say that we have all taken notice of how poignant it is to be performing this opera given the political climate. For me, I think the opera has taken on a bigger role. Yes, the central character's inspiration is based on true events about an Iranian refugee living in an airport but I think the message is much bigger than that. Although it is a comic opera and quite lighthearted, there are darker moments that force you to look inward. I think Flight's story is less about the Refugee's living situation and more about the interactions he has with humanity and the help (or lack thereof) he receives. Too often we overlook those who may need our help and go on about our day. We forget to pause and see what we can do to make this world a better place. In the end I think we all are working toward a common goal. We all want to experience our best life. I hope to portray the Refugee as someone who wants the same as any other person — a chance. He wants to matter.
The characters all seem to get to their respective destinations in some way by the end of the opera, all of them a bit wiser for the events of the previous day. All of them except the Refugee, that is. Does he get to a "destination" in any sense by the end of the work?
The ending could go in many different ways but I do think that the Refugee starts to accept his new life. Ironically, even in his quest for a new beginning, I think the Refugee helps each character with theirs. Perhaps that will be his mission… I'd like to leave the conclusion for the audience to decide.
To finish, I'd like to ask a question I ask everyone: what is it about opera that touches your soul?
There's a quote attributed to Victor Hugo that says: "Music expresses that which cannot be put into words and that which cannot remain silent." The ability to express emotion in a way that is dramatized by the human voice, body, and instruments is unbelievable. It is a spiritual moment like none other.