Many people (shall we say most?) find opera somewhat inaccessible. I get that – it's old, boring, and sung in foreign languages. It's also not easy to break free from the "it ain't over 'til the fat lady sings" vibe; how often is opera depicted in shows, movies, or cartoons as some fat lady with brass chest plates belting out god-knows-what over an 80 member orchestra? My goal: to destroy these stereotypes and show you how enriching, entertaining, and thought-provoking opera can be. It's not my mission to convince everyone in the world how spectacular it is. Rather, it's my hope that I can use this blog to help those who are a tad curious about this art form learn how to approach it effectively and enjoy it thoroughly.
Full disclosure: I am a Mozart nut. There will undoubtedly be a surplus of Mozart-related examples and references throughout this blog. The likes of Verdi, Wagner, Donizetti, Bellini, Puccini, and even Dvořák will appear as well, but who am I kidding? I'm a Mozart man through-and-through. I'm only slightly embarrassed to admit that my idea of a fun weekend is analyzing scores and reading essays about Idomeneo. Here a selection from my personal Mozart library: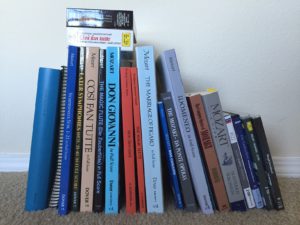 I know what you're thinking – where are the Don Giovanni and Le Nozze di Figaro (The Marriage of Figaro) CDs? I decided I didn't need to run to my car to get them for this photo op. Yes, I still listen to CDs in my car. And yes, I know it's not 1998.
To wrap up this first blog post, I'd like to share one of the reasons I love opera…
Not exactly Ride of the Valkyries. That was a piece from Mozart's Le Nozze di Figaro, sung by Cherubino, a page at the court of Count Almaviva. Cherubino is one of the most famous pants or trouser roles in the operatic repertory. Here (s)he is singing about – can you tell? – love. Mozart, that master of melody and color, uses the pizzicato strings in the orchestra to imitate the plucking of guitar strings. Listen to those chromatic rising lines; can't you hear the young man's yearning, full of sexual desires? What do you think Cherubino is saying during that shift to the minor mode in the middle? What a gorgeous piece.