American soprano Corinne Winters seems to be on the fast track to opera stardom – she's making major house debuts left and right and transforming some of the great leading ladies – Violetta, Tatyana, and Mimì, to name a few – into her signature roles. Currently Winters is making her Seattle Opera debut as Violetta in Verdi's La traviata.
What is your earliest opera memory?
Learning my first aria – the "Seguidilla" from Carmen – when I was 17. Crazy, I know. I started as a mezzo-soprano (if one can even call herself that at 17!) and a teacher from my hometown gave it to me as a fun party piece while I was studying the 24 Italian Songs and Arias for my college auditions. I still love Carmen's music, even though I won't be singing her anytime soon!
I recently saw you perform Fiordiligi in Royal Opera House's latest run of Mozart's Così fan tutte. First off, brava! Your duet with Ferrando in the second act was magical. My first question about this opera: do you agree with conductor Semyon Bychkov, who said 'it is perhaps the first feminist opera I know'? Many claim the opposite, that the work is unabashedly sexist.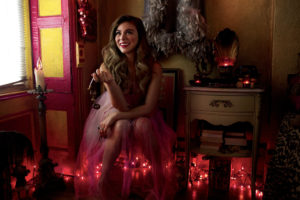 I don't think either interpretation is inherently true, although both are surely possible. The artists tell the story through the lens of the production, while still relying on their unique personalities. In our production, Dorabella and Fiordiligi realize at the beginning of Act II that the men are playing a trick on them. Not only do they willingly go along with the game (which we see in their Act II recitative and duet), but they are excited and intrigued by the switch! Mozart was playful, energetic, and constantly poking fun at high society and its rules, evidenced through his letters and his music. Mozart heroines are notoriously dynamic and triumphant, and this triumph takes different forms: vulnerability, constancy, or fierceness. In light of this, I have no doubt that he would approve of a feminist take on Così.
So often I read reviews of productions that scoff at modern sets and costumes, claiming that these elements detract from the work in that they are not true to the composer's vision. Royal Opera House's Così was just such a modern adaptation. What is your take on this topic that seems to so divide operagoers?
Yes, many people say this – and others complain that traditional productions are boring and passé. I don't agree with either view. Great productions peel back the layers of a piece, shedding light on one particular truth, or a few perhaps, through the director's vision. Clothing, time period, and tradition are only accessories. The questions we should be asking ourselves are: a) Am I moved? b) Do I see the characters and the piece in a fresh way? c) Did the performance stick with me after I left the theater? d) Does this interpretation seem truthful or relevant? These are the trademarks of a successful production – but like voices, these opinions will be totally varied and subjective. That's the beauty of art!
Currently you are performing the leading lady in what is arguably the most popular opera in history: Verdi's masterful La traviata (1853). It leads Operabase's chart of the most performed operas year after year. You yourself have made Violetta into one of your signature roles. How do you bring something new to the table in a work that has been done so frequently?
The production informs my interpretation: how I move, how I deliver text, and how I react to other characters. My physicality and vocal inflection in the Royal Opera House La traviata – a gorgeous period production – will be starkly different from Peter Konwitschny's visceral, barebones La traviata I'm doing here in Seattle. I absolutely love repeating roles and reinventing them each time, especially complex characters like Violetta. Age and experience also add layers to a performance. I did Konwitschny's La traviata four years ago at the English National Opera, but the same production feels vastly different now that I have more life and stage experience under my belt.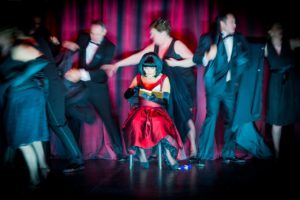 Unlike most Verdi operas, La traviata is really carried by the character of Violetta. It's almost bel canto in that way. Do you feel more pressure when you perform Violetta as compared to other roles (such as Fiordiligi)?
I perform opera almost exclusively, with a small amount of recital work and concert work thrown in. I prefer opera because that's where I release my ego; I do my best singing when I can completely and utterly lose myself in the character. Fiordiligi is an amazing role, no doubt, but it wasn't a natural fit. Mozart doesn't come as naturally to me as Verdi, and my attention tends to wander during ensemble operas. As Violetta, I become her and live in that space for the duration of the evening. In other words, I'm in the zone! I thrive on that type of challenge and choose my roles accordingly.
I've heard that Seattle Opera's La traviata is particularly physically demanding on Violetta. Is it?
Yes, yes, yes. Although I've done the production once before, it's still a marathon. I prepare for it like an athlete: eat clean, go to yoga a few times a week (which grounds me without depleting me too much!), and vocalize every day to train the muscles. That said, I always have one day per week, usually Sundays, to do absolutely nothing!
You've performed in the great halls on four different continents (or have you performed in Africa as well?). At the risk of overgeneralization, how do the audiences differ from one locale to another? Do you have a favorite place (country or hall) to perform?
The halls vary in structure and acoustic – some are definitely better than others – but I prefer performing in cities where I feel a special connection, either to the company, the public, or to the city itself. London ticks all of those boxes for me, so I moved there! I love being surrounded by that energy.
I'm also in awe of the forces involved in opera – singing, acting, orchestra, stagecraft, fashion, art – coming together to create a performance in real time. Opera is alive, and exists only from the downbeat until the curtain falls.
What is one role you feel particularly connected to (outside of Violetta)?
Tatyana in Eugene Onegin (Tchaikovsky, 1879). Like Violetta, she's tormented by the duality in her soul. I love Tchaikovsky; his vocal writing fits like a glove, and combined with Pushkin's text, Onegin is other-worldly magic. Despite being called Onegin, the opera really should have been called Tatyana (which he actually debated doing) because it's more about her journey. I don't speak Russian (not yet anyway!) but the language feels right in my throat. My grandmother was Ukrainian and my grandfather was Russian, so I chalk it up to my Slavic heritage!
To finish up, I'd like to ask a question I ask everyone: what is it about opera that touches your soul?
The sheer power of the unamplified human voice, and its ability to change lives. A friend of mine says that an open-throated, open-hearted voice literally changes the molecules in her body. I'm also in awe of the forces involved in opera – singing, acting, orchestra, stagecraft, fashion, art – coming together to create a performance in real time. This differs from recording, which is its own art. Opera is alive, and exists only from the downbeat until the curtain falls.