American tenor Eric Neuville is a fascinating guy all around – he sings opera, writes books, re-engineers vocal labs, and sings in a Grammy Award winning ensemble. He is currently playing Gastone in Seattle Opera's latest production of Verdi's masterpiece La traviata, consistently the most performed opera worldwide. Opera Sense is thrilled that Neuville was willing to answer a few of our questions about his background and current projects.
What is your earliest opera memory?
I can vividly remember a production of Carmen I saw at Minnesota Opera as a young undergraduate student at St. Olaf College. The production was quite minimal; white floors, white curtains, and white walls. In the final scene, José stabs Carmen and she stumbles up stage, hits the wall, and slides down it leaving a trail of red blood across this pristine surfaces. I realize that is a dark way to start, but it definitely left an impact on me.
Unlike many professional opera singers, you are also an academic. You earned your doctorate, you've written a book – The Unpublished Songs of Ivor Gurney – and you've re-engineered a vocal arts laboratory as part of your interest in acoustical physics. Do you consider yourself more musicologist or opera singer?
I am more of an opera singer. Singing is my vocation. I was drawn to the career mostly through interest in technical challenges of Classical singing. All of the work I've done in musicology and vocal science has been to expand my own personal knowledge base. I find these areas are facets of a well-rounded musician and I pursued them to better myself.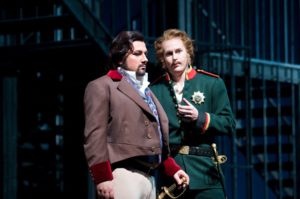 For those of us unfamiliar with the group, tell us a bit about Conspirare.
Conspirare is a Grammy Award winning vocal ensemble based in Austin, Texas. It is led by the brilliant, Craig Hella Johnson; a man as close to true genius as I've encountered. I began singing with the group as a graduate student at the University of Texas at Austin and have continued for over a decade. The group is comprised of some of the finest people I've had the pleasure to work with. Together we perform extremely diverse repertoire and as I mentioned in my answer to the previous question, this group hones yet another facet of myself.
You are currently playing Gastone in Seattle Opera's La traviata (Verdi, 1853). Tell us a bit about this character and his relationships with Alfredo and Violetta. Is there anything particularly intriguing about his role in the opera?
For those of you who know the Traviata story, you'll remember it opens at a party thrown by the Baron Douphol. Gastone is the smart ass that shows up to the party with his buddy Alfredo. In our current production at Seattle Opera this is particularly troubling for the Baron, as Alfredo is not high enough on the social ladder to attend such a party. But Gastone brings him regardless…and stirs the pot. This causes plenty of drama for the party attendees to feed on.
Do you have a favorite interpreter of Gastone? What about a favorite recording of the opera?
Gastone is not a very substantial role; in fact, it is referred to as a comprimario, meaning "with the primary." I feel very fortunate to regularly appear as a comprimario singer with Seattle Opera. It keeps me very busy and I've always preferred to be a busy worker bee. I would say that roughly a third of my performing calendar is comprised of comprimario roles at Seattle Opera, a third are major principal roles with other companies around the country, and a third in concert or recital formats.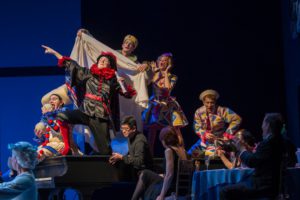 How is Seattle Opera's production of La traviata unique?
In Seattle Opera's current production, director Peter Konwitschny makes the already short opera shorter (107 minutes from first note to last) by staging it without intermission and making cuts to "Ah, fors'è lui," a verse of Alfredo's cabaletta, Germont's entire cabaletta, the choruses of Gypsies and matadors, a section of Act II's concertato finale, a verse of "Addio del passato," the offstage bacchanale, and two sections of "Parigi, o cara." Moreover, Konwitschny decided not to rely on the visual trappings of lavish costumes and sets, opting for a single black chair and several red curtains. This draws hard focus on interpersonal relationships. The staging process was unique as we would often speak at length about the sub-textual motivations for a character's decision before dealing with onstage traffic and directions. Nevertheless, the production is brilliant and definitely generates opinions.
You are soon going to sing the lead in Seattle Opera's upcoming production of Monteverdi's Il combattimento di Tancredi e Clorinda, a far cry from the 19th century works of Verdi and Wagner. Do you enjoy performing Baroque opera? What unique challenges does it pose?

I love singing music of the Baroque Period, but I'll be the first to admit that I am no specialist. Luckily, Seattle Opera has brought in the brilliant Stephen Stubbs to conduct. With opera of this period, there is a great deal of divergent performance practice that must be taken into consideration. Over the past 5-6 years I have learned that these performance practices are less rigid rules about trills, ornamentation, and vibrato, but closer to jazz, where the framework is laid for the soloist to get creative.
An opera can very easily fail to live up to its potential, and we all know there is nothing worse than mediocre opera.
To finish, I'd like to ask a question I ask everyone: what is it about opera that touches your soul?
I am drawn to opera because it is difficult. I can think of very few times where a new role hasn't pushed me to be a better singer, actor, and musician. An opera can very easily fail to live up to its potential, and we all know there is nothing worse than mediocre opera. So, I've constantly returned to the genre because the quest to make it great is never boring.