Opera Sense recommended audio and video recordings of La bohème:
Lyric Opera of Chicago's La bohème returns to the stage following the tremendous success of its initial run earlier this season. The beautiful yet largely traditional staging of this perennial favorite by Puccini is sure to enchant both seasoned operagoers and newcomers alike.
Unfortunately for those in attendance at the re-opening of La bohème on January 10, 2019, Chicago weather had taken its toll on a couple performers; while he still performed, tenor Michael Fabiano was ill and asked the audience for understanding, a message conveyed to the audience by Lyric General Director Anthony Freud prior to the performance. Soprano Danielle de Niese, who was to play Musetta, was unable to appear at all due to her illness. She was replaced by soprano Ann Toomey, a third-year member of the Ryan Opera Center.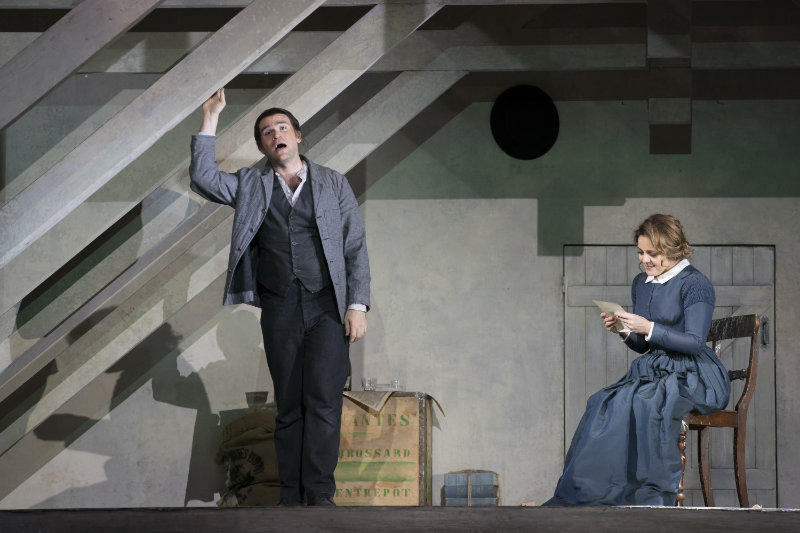 Despite this, the vocal performances as a whole were top notch. Soprano Maria Agresta was in excellent form; her clear and supple mid and upper ranges were an absolute delight, enveloping the audience and her Bohemian compatriots in a warmth not unlike that which one experiences with a soft blanket on a cold Christmas Eve night. Agresta made her Lyric debut last season as Liù in Turandot, after which I wrote, "I hope to see her on stage in Chicago again soon!" Wish wonderfully fulfilled!
Though ill, Michael Fabiano did a great job in the formidable role of Rodolfo. There are no shortage of high notes in the role, and he navigated them deftly. One got the sense that he was holding back in less demanding sections, but this is natural and expected given the fact that he was dealing with illness.
My award for best acting in the performance goes to baritone Zachary Nelson, the evening's Marcello. A thoroughly convincing hot-blooded young 20-something, Nelson delivered consistently and naturally. At one point in Act IV, he suspended himself from one of the wooden beams in the Bohemians' garret, straddling it with his legs as he, well, feel free to use your imagination. Equally powerful was his voice, which cut through the sizeable orchestra and filled the hall with ease.
Ann Toomey's vocal performance as Musetta was splendid; one would be hard pressed to find any faults there. That said, her physical portrayal gave the impression of being a bit calculated in Act II; her blocking appeared to be first and foremost in her mind, though that's understandable as she was filling in for a very physical role that demanded significant rehearsal, something understudies are often not afforded.
The Bohemians Schaunard and Colline were played by current Ryan Opera Center member Ricardo José Rivera and Romanian bass Adrian Sâmpetrean, respectively. Rivera's rich and crystal clear baritone was a pleasure to the ear, and his obvious comfort on stage belied the fact that he is only a first year Ryan Opera Center member. Sâmpetrean's Colline was solid, but there were times when I had to struggle somewhat to hear him.
The Chicago Children's Choir infused the production with youthful energy, and the budding singers were spot on.
Venezuelan-Swiss conductor Domingo Hindoyan led a superb Lyric Opera orchestra. The sheer size of Lyric Opera House always makes balance a tricky business, but under Hindoyan's baton, there were only a few moments when one had to strain to catch the singers.
Set and costume designer Stewart Laing did a bang up job. I was intrigued by his interesting manipulation of one-point perspective to create depth in Act II. It was an effective way to set the scene in the Latin Quarter of Paris since it allowed the shops that lined the halls to be visible to more audience members than it would have otherwise. It further had the intimate effect of bringing the action of the scene right up to the audience.
Featured image credit: Lyric Opera of Chicago