Lyric Opera of Chicago's production of Verdi's 1853 masterpiece La traviata proved once again why the work is the most performed opera in the world year after year; it has got it all: drama, complex characters, memorable tunes, heart wrenching moments, and a reasonable length. The traditional staging was dark and beautiful, complementing the spirit of the piece.

Suffering from laryngitis, Russian soprano Albina Shagimuratova, who has graced the stage at Lyric Opera House twice in the last two seasons (I puritani in the 2017/2018 season, Lucia di Lammermoor in the 2016/2017 season), was replaced by American soprano and Ryan Center alumna Emily Birsan, who stole the audience's heart. Her sweet tone and breathtaking pianissimo perfectly captured the character of Violetta, the young courtesan suffering from tuberculosis. Equally impressive was her acting; at one point, following her brilliant caballeta in Act I, she took a longer pause than I have ever heard in a recording, and in that brief moment I saw in her face and body language precisely what she was going through emotionally. It was one of those rare moments in opera when acting equaled singing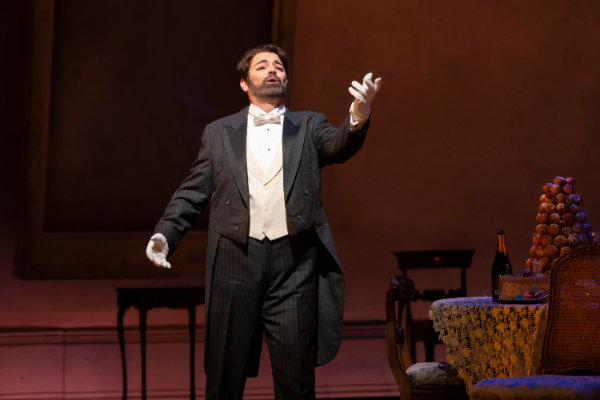 Alfredo, the lead male role and Violetta's lover, was played by Italian tenor Giorgio Berrugi, making his Lyric debut in this production. To put it simply, he was excellent. His luscious tone poured out in "Un dì, felice, eterea," and his diction in his native Italian was phenomenal. In Act III, as Alfredo and Violetta sang their last duet, I was under the impression that Berrugi and Michael Christie, the conductor, had different ideas regarding tempo, but fortunately this was quickly resolved when Birsan took over and went with Christie's quicker pace.

Germont, Alfredo's father, was portrayed by Serbian baritone Željko Lučić. His powerful voice had a tone of such beauty that it was hard to focus on anything else when he was singing. I doubt whether there could have been a more perfect Germont; I was convinced at every turn as I watched the prideful father use his authority to get Violetta to leave her son, and then come to realize that this former courtesan was true of heart, and that he had committed an act of such unforgivable wrongdoing that he was left with nothing but a feeling of overwhelming guilt.

Former Minnesota Opera Music Director Michael Christie conducted an outstanding Lyric Opera orchestra. Coming from Minnesota myself, I have had the great fortune of watching and listening to Christie's gifts, and last night was no exception.

The traditional set and costumes of Lyric's La traviata were effective, though I will recall the vocal performances of last night much longer than I will the visual elements. I had trouble getting over the fact that the lights dangling from the ceiling in Flora's mansion in Act II reminded me more of something I would buy at Ikea than expect to see in a French mansion in 1860s Paris, but beyond that everything seemed perfectly suited to the time and place.

If you haven't had the chance to see Lyric's La traviata yet, I highly recommend that you try to see it. It's a great work for both seasoned operagoers and newcomers alike. You have six more opportunities to see the production, and tickets can be purchased at Lyric's website at www.lyricopera.org.