Wagner's Tristan und Isolde marked my first experience watching one of the Met's Live in HD productions, and I'm afraid it may be difficult to return to the stage theater to watch opera having experienced it. The six or so of us in attendance sat in reclining chairs like these: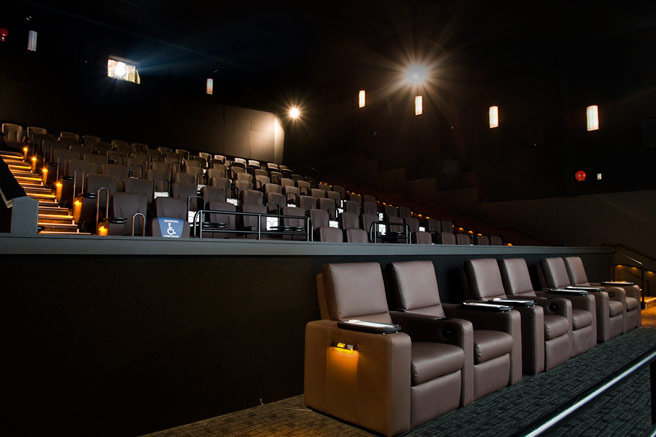 Now that's the way to watch opera!
For those unfamiliar with the Met's Live in HD program, each year the company puts on 10 productions or so that are broadcast live worldwide. Intermissions are filled with interviews with various actor-singers, stage hands, orchestra members, and conductors. Yesterday afternoon was the first one of the 2016/2017 season, opening with Wagner's Tristan und Isolde, starring Nina Stemme and Stuart Skelton in the title roles, and Sir Simon Rattle leading the orchestra.
I did my homework prior to going to the movie theater, but no amount of study can truly prepare one for the sounds about to be experienced. In the course of the four-hour work, I heard Bernstein, Dvořák, Barber, and Strauss, just to name a few. I walked out of the theater completely spent emotionally and physically. Having recently attended Gounod's Roméo et Juliette, I couldn't help but compare apples to oranges; Tristan was composed between 1857 and 1859, premiering in 1865, while Roméo came into existence two years later, in 1867. Despite the fact that the two works were composed so near each other in time, the musical vocabulary of the two composers could not be more dissimilar. Gounod was locked in the past with Donizetti and Bellini, while Wagner was paving the road for the composers of the next century.
As this month's Opera of the Month is Das Rheingold, I have been spending a lot of time with the Ring's leitmotivs. What I noticed in Tristan, however, is how Wagner altered his approach to leitmotivs. In the Ring, each motive is associated with a specific noun quite rigidly; in Tristan, the motives tend to be associated with abstract nouns exclusively and not very rigidly. Consequently, naming them in Tristan is far more difficult and occasionally misleading, in fact. The great Wagner expert Ernest Newman sums it up best. I quote him here at length for good reason:
"Wagner's conception and employment of motives varied with the nature of the work he had in hand; and when, as in Tristan, stage action and external reality count for very little and psychological states for virtually everything, the import of a motive can rarely be pinned down throughout to any particular person, object or episode. The motives are sensitive, plastic musical materials, on a par with those of the symphonist, with which the composer weaves a fabric of thought and emotion of a kind that can exist only in music." -Ernest Newman, The Wagner Operas
As an example, it would be a mistake to conjure up a distinct image of the glance Tristan gives Isolde every time the so-called "glance" or "look" motive (below) is heard; this is too limiting and almost certainly not what Wagner intended. Instead, the listener should be reminded of the love the two characters seem destined to feel for one another.
As for the performance itself, Nina Stemme's Isolde was magnificent. Her pianissimo entrances in Act II seemed to emanate from pure nothingness. Pianissimo was pianissimo, fortissimo was fortissimo, and through it all was unparalleled control. Stemme owns this role. Opposite Stemme was Stuart Skelton, who artfully navigated the challenges inherent in this greatest of all tenor roles. Though not as strong an actor as Stemme, there were particularly poignant moments that are easily overacted in the final act, but Skelton did not fall victim to this tendency, and his diction was rock-solid. Simon Rattle, conductor, was as brilliant as ever, coaxing colors and dynamics from his orchestra that few conductors can achieve. The staging was effective and evocative, challenging spectators to think without being pretentious. The projected images added a new layer to this infinitely complex work, and I appreciated the recurring eclipse-like image precisely because it was thought-provoking and had no easy explanation, much like the work itself. Is Tristan a nod to the Eastern Buddhist idea of nirvana? Is it a prediction of the decline of Western civilization? Is it simply a retelling of one of the West's oldest love stories? Is it something else? Is it all of these things?
Whatever it is, one thing is certain: Western music was never the same after Tristan und Isolde. From the first sounding of the famous Tristan chord, we are transported through the worlds of day and night with unprecedented chromaticism, orchestral color, and harmony to the final resolution that comes only in death.